With the growing use of technology in today's world, multi-functional digital devices such as smartphones, tablets, and smartwatches have been made possible by the advancement in technology. Computers and laptops also are becoming more and more popular with the various beneficial features that make them more convenient, portable, powerful, and quicker than they have ever been.
Technology has made our life better, easier, and much more enjoyable, thanks to the revolution of technology. It is not only useful for our personal life, but it is also very helpful in every professional industry such as the business and healthcare industry.
A lot of different kinds of industries nowadays rely on the advancement of technology to help their industry rapidly grow to the next level. For example, some companies have started to implement visitor management systems to secure their facilities and improve their customer experience. It is a very useful system for every industry.
What Is a Visitor Management System?
Aren't you tired of having to face a long queue for a long time every time you go to hospitals or any healthcare center? Well, with the visitor management system, this problem can be avoided. A visitor management system is a tool that controls and assists the flow of visitors. This system keeps track of how a business, website, or public institution is used properly.
To put in in other words, visitor management refers to how your business treats your visitors who come through the door of your business. The majority of a visitor management system is done digitally, with the help of software and engaging kiosks.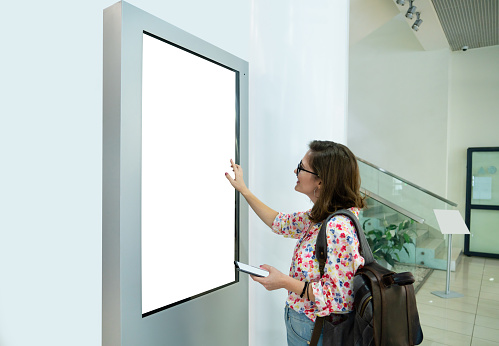 Visitor management helps you in recognizing, identifying, and connecting your visitors with authorized personnel. With a visitor management kiosk, many advanced features and tools can be implemented in your business such as collecting the visitors' information as well as their photos and providing access to the visitors to your business premises.
Why Is the Visitor Management Kiosk Important?
Streamline Business Operation
As mentioned before, a visitor management kiosk helps your business operate in a faster and more convenient way. Visitors can just check in or check out using this kiosk by themselves without having to queue in a long line.
Not only that, but a visitor management kiosk also can relieve your staff's manual tasks, allowing them to concentrate on their tasks that require more attention. As a result, simple mistakes done by your staff can be minimized and your business can continue to operate smoothly.
Enhance Visitors' Experience
Imagine having to wait in line for a long time when you are in urgent. Must be a disaster. In fact, everyone does not like to wait in a long queue. With the help of a visitor management kiosk Malaysia, visitors do not have to spend a long time just to use your service or check in and out of your business.
Within a few seconds, your visitors can rapidly check in and use your service. As a result, you can establish a reputation as a business that values its visitors' time by minimizing their time spent in your business and enhancing your visitors' experiences at the same time.
Improve Safety and Security
Since the strike of the Covid-19 pandemic, our attention has been drawn to our physical touch on different surfaces as a careful step from risking ourselves getting the Covid-19 infection.
Visitor management kiosks such as contactless self-service kiosks offer access that can be used through biometrics, speech recognition, and gesture interaction making it a more secure and safe solution for visitors' administration control.